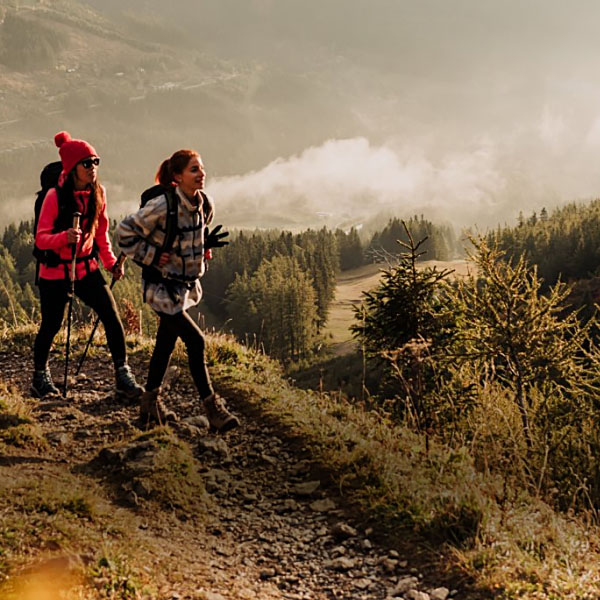 United We Hike
From Dachstein cable car station to Buchberg
6 days / 5 nights
Medium difficulty level
4-7 pax per trip
The trail, day by day
Day 1
Welcome to Dachstein
Make your own way to Ramsau am Dachstein. Welcome meeting with our ASI mountain guide in the hotel at 7.00 p.m., explaining the itinerary for the coming days.
Day 2
Journey across the Dachstein massif
Ascent by Dachstein-Gletscherbahn cable car, climbing to an altitude of 1,000 metres in only 7 minutes. Today's leg of the journey begins at the upper cable car station, from there we head north across the Schladming Glacier. The trail continues up and down through the isolated karst and glacier landscape. We hike through this quiet landscape until we can see the Guttenberghaus in the distance. This mountain refuge is located high up at 2,146 m and is our destination for the night.
Distance: 7.5 km
Day 3
Heading for the Eisenerzer Alps
Today's leg begins at an altitude of 2,146 m; the panorama from the Guttenberghaus mountain hut is particularly impressive in the early morning. We can enjoy the fabulous view throughout today's leg as the descent takes us along the mountain ridge. We finally make it to the Stoderzinken mountain which offers fabulous panoramic views. A private transfer takes us to the next mountain range in Styria: the Eisenerzer Alps.
Distance: 15 km
Day 4
Eisenerzer Reichenstein
The third leg of the journey takes us up to Eisenerzer Reichenstein. First of all, we take a steep path up the mountainside from Präbichl. We hike along the mountain ridge, which involves a leisurely ascent, until we reach the Reichensteinhütte mountain hut positioned just below the summit. There is a unique view of the terraced landscape of the Eisenerzer Alps.
Distance: ca. 6 km
Day 5
We then head down towards Krumpensee
The route takes us down from the Reichensteinhütte mountain hut, past Reichenhals and Krumpenhals. The Krumpensee mountain lake is an ideal place to take a break before continuing our descent to Hirnalm. Transfer by car to Seewiesen.
Distance: 9.5 km
Day 6
Off to the Hochschwab plateau
The Hochschwab Mountains are the hub of many long-distance hiking trails, including the one called the "Glacier to Wine" hiking route. Today's destination is the very first 'Passive House' high up in the mountains. Most of the electricity as well as hot water is generated from solar power. Rainwater is collected from the roof and treated, so that it is drinkable.
Distance: 10 km
Day 7
Descent and 'goodbyes'
We hike down from Schiestlhaus. A private transfer then takes us back to the starting point, from where we make our own journey home.
Day trip
In cooperation with: