Bear Community
There is also the misunderstanding with regard to the so-called Bear Community and the related website bearwear.nl that Jack Wolfskin took a disproportionately aggressive stance vis-à-vis the use of the pawprint symbol.
The dispute with the Bear Community pertained to the use of the following superimposed pawprint on items of clothing, particularly T-shirts: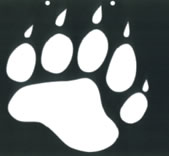 Mr Jos Leene, who operates the website www.bearwear.nl, had these T-shirts manufactured by a company with whom we had a legal dispute and then sold them on bearwear.nl. As a result of the dispute with the company, no items of clothing are now manufactured featuring pawprint designs. Mr Leene was also affected by this. He temporarily took his website offline and indicated that it was no longer possible to sell products featuring pawprint designs.
The fact that the www.bearwear.nl website had been taken offline was first brought to our attention by a dissatisfied customer from the Bear Community. Upon receiving this complaint, we wrote an email to the operator of bearwear.nl on 26 October 2009 and indicated that Jack Wolfskin had never ordered the bearwear website to stop operating its online shop. In addition, we also asked the operator to get in touch with us as soon as possible so we could come to an agreement.
Mr Leene reacted to our email straight away. Once it quickly became clear that both parties were interested in coming to a mutual agreement, Jack Wolfskin extended Mr Leene the offer that would enable the further use of the pawprint symbol provided that it was not used alone but in conjunction with an easily recognisable wordmark. The subject of the proposed agreement was limiting the sales channels to non-German online product ranges, as well as to sales at Bear Community events. Following further correspondence, which largely focussed on aspects of our range requiring clarification, Mr Leene accepted the proposed agreement, signed it and sent it back to us on 16 November 2009. No further conflicts arose in the subsequent period with Mr Leene and the bearwear range. Mr Leene continues to sell various T-shirts and items of clothing under the domain name www.bearwear.nl.