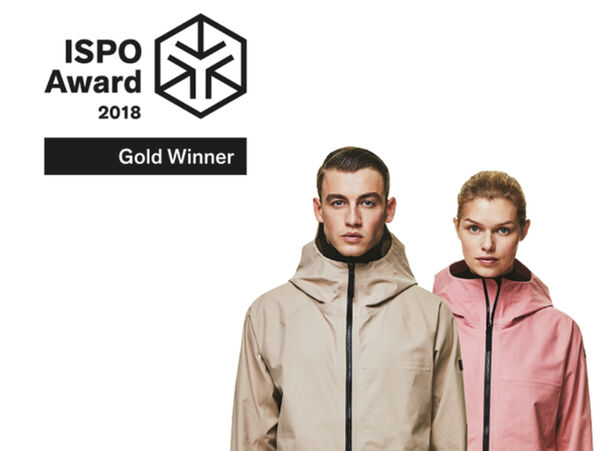 ISPO AWARD for THE STORM SHELL by WOLFSKIN TECH LAB
Feb 1, 2018
Share

WOLFSKIN TECH LAB collection by JACK WOLFSKIN stands for technological innovation and outstanding design. The high-end product of the autumn-winter collection 2018 has been honored with the prestigious ISPO Award.
GOLD WINNER AWARD in the category URBAN
Honored for key product of the new autumn-winter collection 2018
Perfect combination of design and the innovative XaltTM Garment System technology
THE STORM SHELL jacket is awarded as best product with the GOLD WINNER AWARD in the URBAN OUTER LAYER 3L category. This high-quality product convinced the independent jury with its perfect combination of extraordinary design and the innovative Xalt TM Garment System technology. This technique makes all tapes and seams invisible and the jacket looks like one piece. "Clean design with beautiful lining. A fair price compared to similar products on the market" the Urban Jury explains their decision.
"We are very proud that the combination of smart design and strong function impressed the jury that much. To be awarded with the Gold Winner Award is both a confirmation and a stimulus.", says Melody Harris-Jensbach.
Every year the international leading sports business network ISPO is honoring outstanding products of the sports industry with the ISPO Award.
THE STORM SHELL Women & Men – A technical masterpiece with no visible tapes or seams
This waterproof and windproof jacket is the absolute highlight of the new WOLFSKIN TECH LAB collection. It has an attractive, ultra-clean look and an exciting technological innovation:
all the seams have been invisibly sealed using Xalt TM Garment System technology, and there are no side seams at all. The raglan sleeves and the hood, which can be adjusted to leave a narrow opening, emphasise the jacket's clean silhouette. Two side pockets with vertical zips and one inside pocket provide ample space for essentials. An inner jacket can be integrated easily using the snap-in press-stud system. Unusual colour tones emphasise the elegant style.
Women: THE STORM SHELL available in night blue, almond and rose quartz
Men: THE STORM SHELL available in night blue, almond and sequoia.
TECHNOLOGICAL INNOVATION: Seams are invisible inside and outside as they are welded through the Xalt TM Garment System Technology and that gives the jacket an ultra clean look.
Guidelines on the use of press materials:The contents provided can be used free of charge as part of editorial coverage on JACK WOLFSKIN. Misleading commercial use is regarded as unlawful. Each photo publication must be followed by the note "Photo: JACK WOLFSKIN" and, unless detailed in the picture caption, must be accredited to the photographer.Please send specimen copies to the address mentioned below.