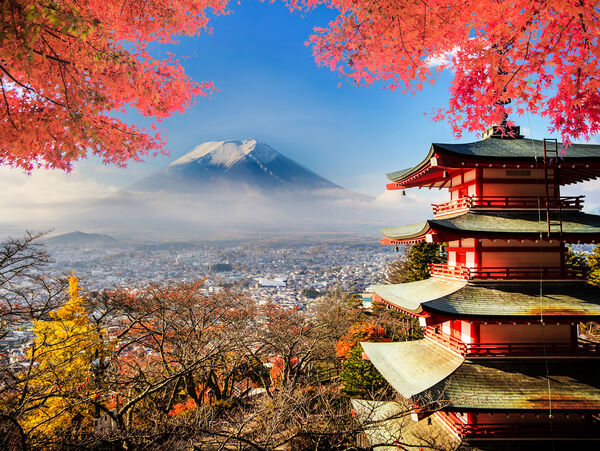 Winter 2019 – Technologies, materials and products
Feb 1, 2019
Share

Pulsating megacities and breathtaking nature, centuries-old tradition and cutting-edge technology – in designing its new winter collection, JACK WOLFSKIN looked to the Far Eastern dream destination of Japan. In the ACTIVE OUTDOOR area, this island country's unique mountain landscapes and multifaceted natural world were taken as a leitmotif.
The metropolitan region of Tokyo, with its exciting mix of futuristic innovations and traditional values, was the inspiration for the current EVERYDAY OUTDOOR collection.
In the 2019 winter season, the subject of sustainability remains very much in focus. As a pioneer in this area, JACK WOLFSKIN is using the revolutionary TEXAPORE ECOSPHERE technology in ever more articles of clothing as well as equipment. In doing so, the company again underscores its trailblazing role and outstanding competence in sustainable innovation. Altogether, there are already 64 styles for women, men and children which are made primarily of fully recycled materials*. This winter, JACK WOLFSKIN presents the most sustainable skiwear collection in the company's history.
(*Refers to shell, membrane and lining.)
The topic is systematically extended to other areas as well: many styles now also employ zips and buttons as well as plastic transport packaging made entirely of recycled materials.
Moreover, the entire clothing collection and all backpacks and bags are 100 % PFC-free!
The pioneering achievements further include innovations such as the SUPERLOFT technology with down-like qualities and the SUPER DWR technology, which ensures extreme protection against water without the use of PFC.
Extraordinary new products point the way forward by integrating futuristic design and innovative functionality. These include the PROTON and NEURON backpacks, which combine large reflective surfaces with active illumination.
In the new season, JACK WOLFSKIN continues its major offensive in the area of footwear – with two thirds of the entire shoe collection now made up of completely new products. The classification and labelling of all shoes according to the international activity index has been expanded by three new categories. There are now optimal models for every need, in every price segment.
All lines of the kids' collection have likewise been overhauled. An important innovation in the area of equipment: backpacks and bags are divided into three age classes, all offering different fits and features.
A premium is placed on style at JACK WOLFSKIN: the Capsule Collections that were successfully launched last season have been systematically further developed. The smart products of the JW PACK line can be very compactly stowed. They are lightweight and guarantee optimal performance. The JW365 Capsule Collection just for men offers multifunctional style year-round.
For more information about our products you can download the complete presskit here.
Guidelines on the use of press materials:The contents provided can be used free of charge as part of editorial coverage on JACK WOLFSKIN. Misleading commercial use is regarded as unlawful. Each photo publication must be followed by the note "Photo: JACK WOLFSKIN" and, unless detailed in the picture caption, must be accredited to the photographer.Please send specimen copies to the address mentioned below.