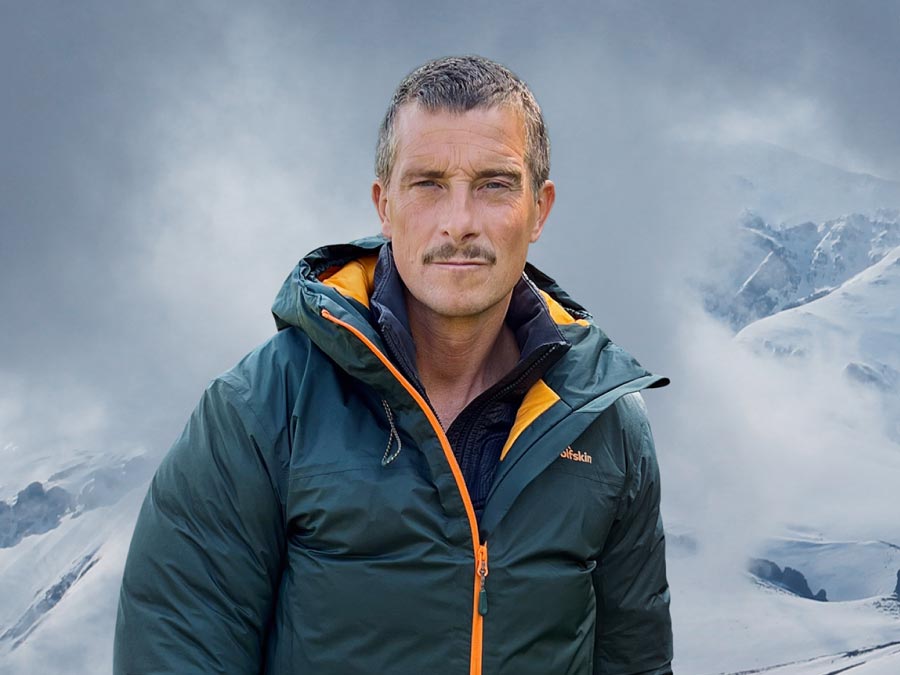 Bear Grylls: Adventurer
Some answers for Jack Wolfskin and the Team.
Okay, here we go!
My name is Bear Grylls. Nice to be with you all. Question number one, done. Name, ha!
How do you describe yourself to strangers? What your job is.
Probably, awkwardly, to be honest. Maybe as somebody who loves adventure, loves the outdoors, grateful for life. Trying to live it with courage, kindness and never give up spirit.
For the three people who don't know you, give me some career highlights.
I always struggle with this a little bit. But I guess, to start with, after I left school I joined the military and spent three years with 21 SAS. During this time broke my back in a freefall accident, I mean not a high point, maybe a career low point. I was traveling in Southern Africa had a parachute failure, broke my back in three places, and then spent many months in physical rehab in UK. It was a long recovery process, in this military hospital, and I think what I focused on during that time was to get strong enough to be able to do the one thing I was always good at as a kid and growing up, which was the climbing. I eventually got a chance to be a part of a military expedition to Everest. Reached the top, just, wrote a book about that when I came back, called: 'The kid who climbed Everest'. I was 23 at the time. I then left the military and on the back of the book Discovery Channel in the States approached me and suggested we shoot a pilot show called "Man vs. Wild". And that really was the beginning - that show opened the door to "Running Wild" and "You vs. Wild" and all those other shows so, yeah. Luck too played its part, no doubt. Many failures also along the way. Also to be honest, the real highlight for me, is to be father to three incredible boys, husband to a great lady and still going. Still smiling. Still standing. Still fighting. Still doing my best.
Talk about a moment in your childhood or youth when you decided to pursue a life of discovery.
Probably growing up, climbing with my dad. He been a former Royal Marine commando who taught me to climb at a young age. Huge part of my upbringing I think was just wanting to be close to him. And my way of doing that, would be outdoors, would be in the thick of it. Always kind of tinkering around, making little rowboats or climbing on the sea cliffs on the island I was brought up on in the UK. Riding horses flat out along the beaches having fun, having adventures. He is no longer alive now, he died far too young, but I am forever grateful for the time spend with him. Those times shaped so much of my life really. Above all he told me to follow my dreams, not listen to the dream stealers, pick the path less trodden, be kind, know the value of great friends and as they say, never give up.
What's the scariest thing that's ever happened to you on an adventure?
I don't know there have been a lot over the years, a lot of … bitten by snakes, pinned in rapids, falling down crevasse, caught in avalanches, close encounters with sharks and big crocodiles. You name it. Parachute fails, hah, there's been a lot. I try more to focus on the good stuff, the stuff when it's worked out. You know I think everyone always asks about the 1% stuff where it goes wrong. I am more proud of the 99% time where it goes right, because I've learned in the wild, you only get it really catastrophically wrong once, so be smart. Leave the ego at home, focus on getting the things right, especially with the adventures where I am taking, Hollywood superstars away, you've got to get it right.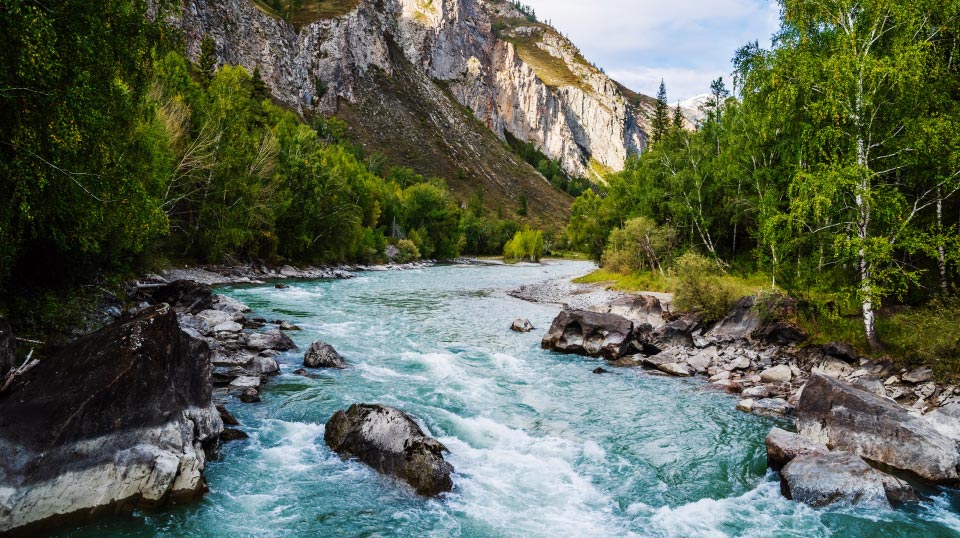 Many of your adventures are well documented for media series. When the cameras aren't rolling, how do you like to spend time in nature?
We live on a pretty wild part of the world in North Wales on this little island off the coast in the UK. I am here now, if you can hear the seagulls in the background - but it is great, totally off grid, one little house, wind and rainy a lot of the time but I love it here and I get to train and swim in the sea every single day and I love that. But also we get cozy, you know at the moment our boys are inside and playing indoor cricket with a tennis ball with tape wrapped around it. Kids stuff, is always the best stuff. But generally life is pretty physical here on the island. Even going to the mainland to get supplies. It involves a hill, a quad Bike, a row boat, a RIB which is a rigid inflatable boat, a hike and then the reverse the process.
Describe your perfect day in the mountains.
I think it is always about who you are with, isn't it. All adventure for me is all about who you with. If I think of the people I've expeditioned with I always picked friends above skills always try to be alongside people I love. Often people I served in the military, people I trust and who I've been on many trips since. A Good day in the mountains is often with family as well. We also own a little cabin up in the Swiss mountains where we spend a lot of time. In the summer its the hiking, the climbing and in the winter we ski and paraglide. That is a happy place for me - doing this stuff together.
Now that your sons are all coming into their own, tell me about what kind of adventures you get up to as a family.
You know, I think people always kind of presume it is always high adrenalin, all the time, I mean, there is an element of that at times, but most of the time it is pretty regular, you know. We have a lot of cosy evenings watching films or cooking together. And it's definitely not always perfect. We argue a bunch too! But adventure is often the compass to return to. My eldest son Jesse got me into base jumping a few years ago, so we do that together which has been a ride. We've had some epic motorbike and base jumping trips over the years through the mountains, through the alps. Youngest one loves more regular sport like tennis. Middle one wants to join the army. Our job as parents? Just love them along the way and help them soar...
How does it feel to be on the mountain during winter. Could you describe to someone who has never gone and climbed a mountain in wintertime?
Winter is hard, you know. You cannot take anything for granted and the weather is what makes high mountains especially hard. You got to be super cautious, you got to be well prepared. And you got to be ready to retreat. Respect the mountains. Especially in winter. As they say: "The mountains are like your mama, threat her right and she treat you good back. Disrespect her, she'll teach you a lesson you will never forget!" I like that.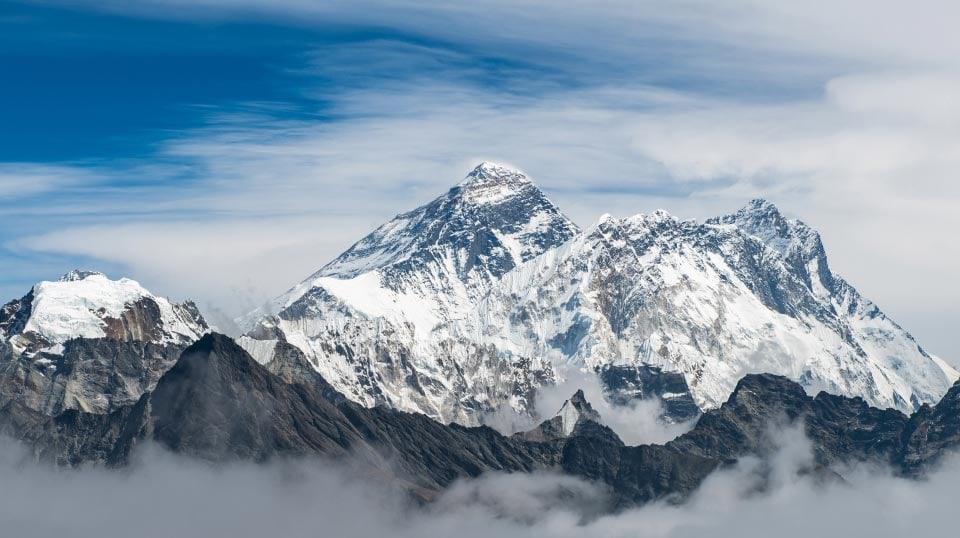 What qualities and characteristics do you associate with winter?
I think unforgiving but is also there is a raw kind of beauty to it, in the crispness, when it all comes together, when the weather is stable. There is a carnal side to it too When the weather is hard you've got to stay focused, take the eye of it for a second and you get punished. You know, loose a glove or whatever it is, and you end up in trouble, you need to be really on it in terms of not making mistakes in winter in the mountains. And the great lesson about cold in the winter: "Act before you are cold." If you start to shiver it is too late, you got cold hands it is too late. You've got to act early, you got to be on it, that is what I mean. So put another layer on, get your hands moving, whatever it is. Be ahead of the curve rather than behind it.
Tell me about this idea of discovery. What does that word mean to you? What is discover in 2023?
That is a good question, I think the truth is that discovery is a state of mind, it is how you live your life. Looking forward, looking up. Not backwards, not down. Have a risk-taking spirit, know the value of great friends. Respect the wild. Respect the outdoors. Respect each other. Have a courageous, follow your dreams, never say die, never give up spirit. Discovery, like adventure is how we live, it is how we approach life and our relationships, our goals and our dreams. I think.
You're pushing adventure and discovery at the far end of the bell curve. Should the idea of discovery stay there as an aspiration? Is discovery accessible for everyone and should it be?
Of course. Like I say, discovery is a state of mind, it does not matter whether you are a kid battling school, battling some tough things at college or you are an older guy, fighting maybe, try to hold on to a few dreams and try to battle health and this sort of stuff, it truly is a state of mind. New discoveries should always be there. Whether you are somebody pushing those envelopes a little bit, we're all in the same boat, really. We are all doing our best. As the scouts say: "Do your best. DYB. I love that. And it comes back to the same thing, how do we choose to live. For me it is all about quiet courage, try and be kind in the little moments, and have a never give up spirit.
You've been at this quite a long time, what has changed in you over the decades in terms of the ways you approach being in nature? What's changed with how you define adventure?
I think I have realized who is in charge. Mother nature is always the boss out there. I have also realized my own limitations. You know I am not as brave as sometimes people think. I am not as capable as sometimes people think. But I learned that that is okay. You work with what you've got. And you keep the goals. You keep challenging yourself. You keep trying to move forward. Like I say moving forwards and up rather than looking down and back. It comes back to the same stuff, doesn't it? How do we live our lives with that adventure state in mind.
What are you discovering now?
I think I covered that a little bit in the question: Does Discovery still matter? Covered that.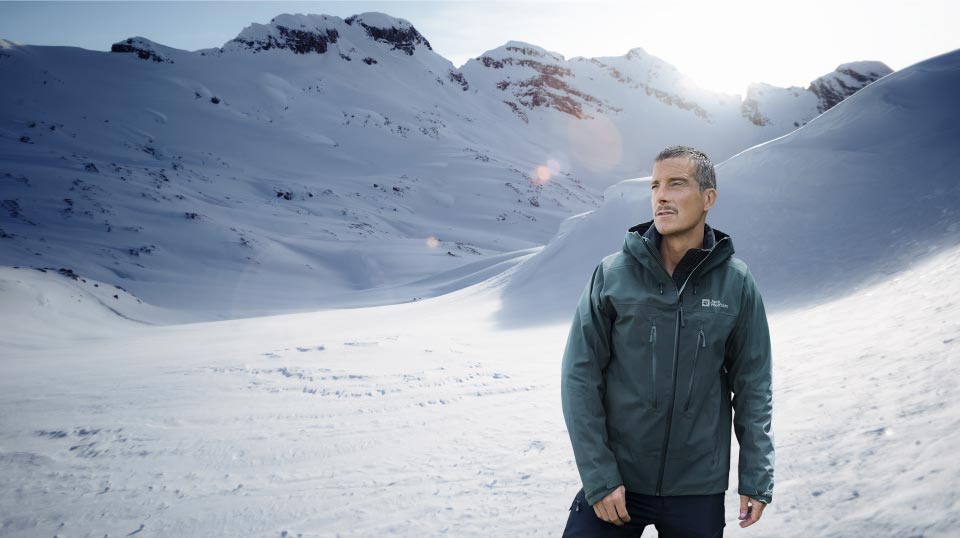 What are you most excited about?
We just finished filming the latest season of Running Wild for Disney and now it is the summer ahead with the family. We start back on the road in a few weeks but first its this precious time with the family, up in Wales, off grid. We turn things off, slow down. This is my last interview or work for a few weeks. Train a little bit. Eat a few treats. Maybe a few chocolate bars. I love chocolate. And … yeah, I get asked that a lot. How do I eat. I try to eat naturally - apart of the chocolate! I try and eat like our ancestors. Red meat, eggs, fruit honey, liver, ha. With a few treats along the way. I'm excited for all of the above really!
Why did you choose to live that life?
Well, the simple answer is the alternative. We can either be head down and give up or head up and never give in. It's like why be enthusiastic? The alternative. Why be positive? The alternative. Why go for things? The alternative.We get to choose how we respond to tough things in life. Like failures. I have failed so much in my life, more than you would ever imagine. Truly. I don't pay that lip service. My failure far out way my successes. I am proud of them, I wear them like scars, I wear them as stripes and marks. And they've been a gateway to getting to the good stuff.