Nov 4, 2019
Real Dome
To achieve better use of space and greater stability in our dome tents, we have further developed the principle of the REAL DOME technology for dome tents. Thanks to the special poles, the Real Dome tents are especially stable in high winds and there is more room in the headspace. The tents are especially quick and easy to pitch.
We have used REVERSE COMBINATION poles with varying diameters for REAL DOME technology (RD). The poles meet the floor at a steeper angle, making them more robust than conventional dome tents.The innovative DAC FAST PITCH tent component system simplifies and speeds up tent pitching and increases stability.
An overview of the benefits:
1. Wind stability: as a result of the different diameters of the poles, the tent remains flexible even when subjected to strong winds, maintains its shape longer and is better able to withstand forces occurring around the roof.
2. Use of space: steeper poles reduce the pitching area, whilst ensuring optimum use of space.
3. Pitching: thanks to the self-supporting, free-standing dome construction, pitching this type of tent is incredibly easy.
[1.] Compare: classic dome construction with the same surface area
FAST PITCH: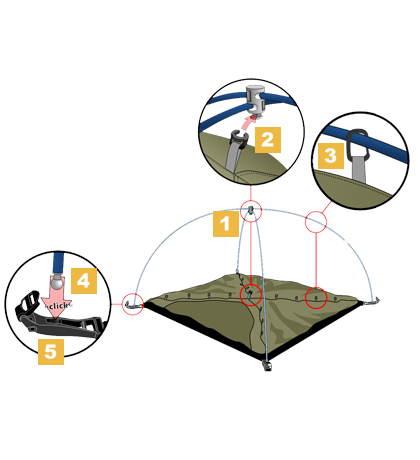 [1.] Fully connected pole System
[2.] CONNECTOR pole connector
[3.] CLIP tent attachment point
[4.] BALL END pole end
[5.] FAST PITCH pole foot