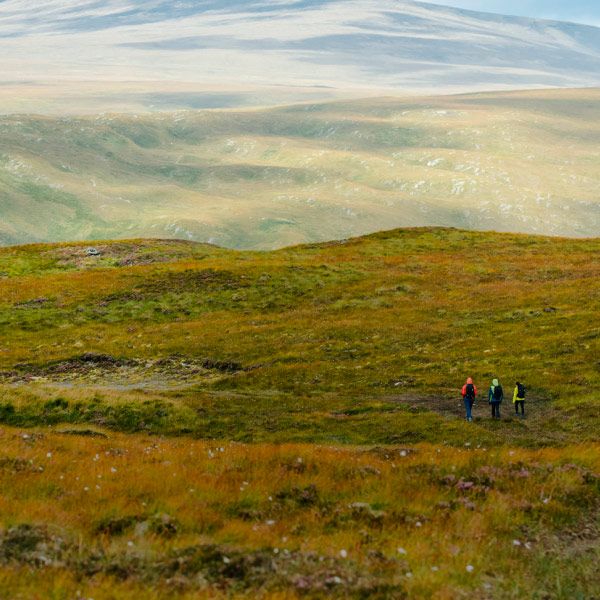 United we hike
Through Scotland
6-day trip from Inverness in the north-west of Scotland to Lochinver.
6 days / 5 nights
Medium difficulty level
4-7 pax per trip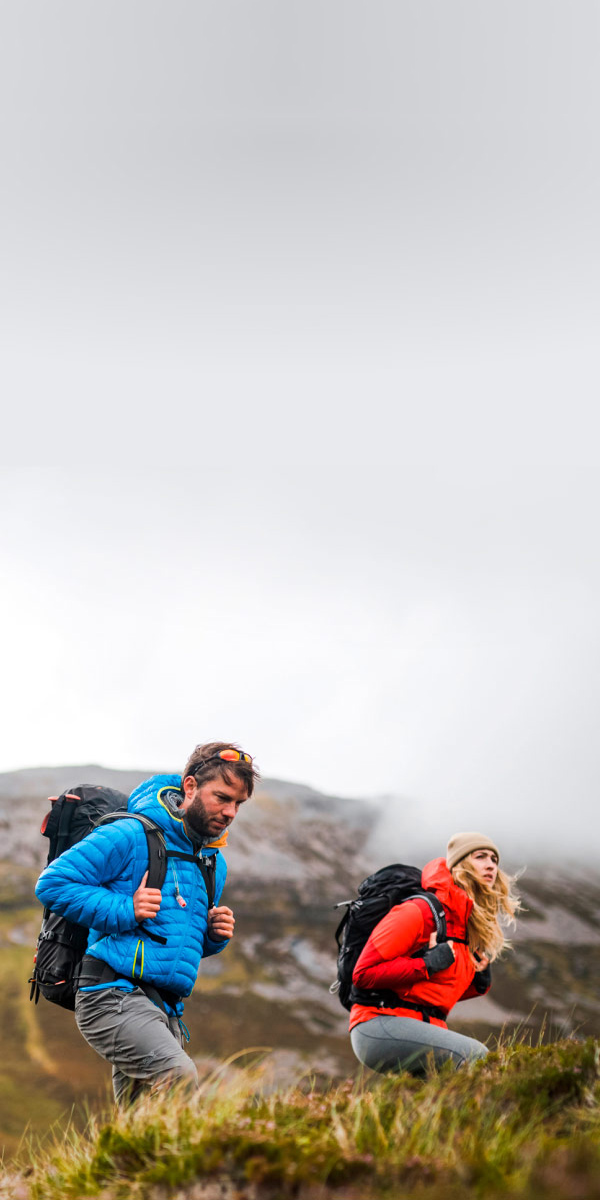 A 6-day hike from the sea to the Highlands
Adventure, fun and challenges: and all of it far away from the noise of traffic and civilisation. Be part of our Wolftrail and hike together with a small team through the Scottish Highlands. The 6-day trip heads from Inverness in the remote north-west of Scotland to Lochinver.
Our Wolftrail team and their stories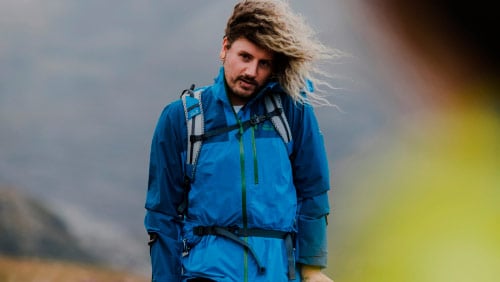 Tom
I'm Tom Belz, 34. I was diagnosed with bone cancer when I was 8, and if you had believed in the "typical course" that this type of cancer takes, I wouldn't be sitting here today writing to you. But here I am, 26 years later, my left leg amputated at the hip and ready to show anyone that had any doubt all those years ago that my disability is no excuse.
@tomnative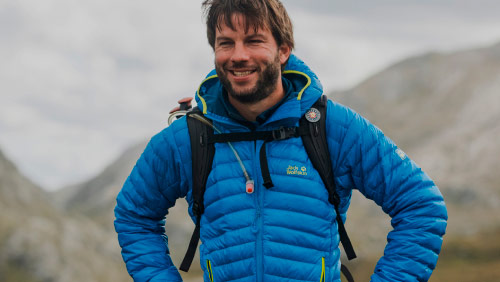 Ben
I'm Ben Mueller, an international mountain leader guiding all over Europe. When it comes to the best place to walk and live my heart is in Scotland, my chosen home for the last 10 years. The outdoors and walking are my greatest passions. Driven by my values, I strive to discover adventures, freedom and happiness for my clients who put their trust in me.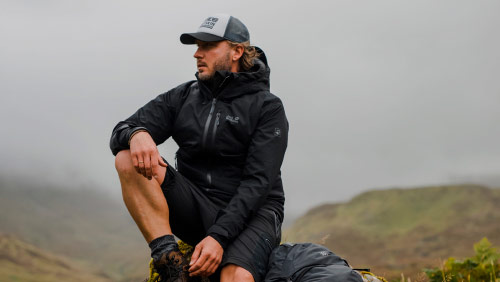 Gürel
My name is Guerel Sahin. I am a 39 years old (or young!!!), an outdoor & commercial photographer from Germany. 8 years ago I made my biggest passion my profession. The adventure of being outside and spending days and nights in nature lets my heart run wild. The combination of nature, wanderlust and creativity - that's what makes my job the best job in the world.
@guerelsahin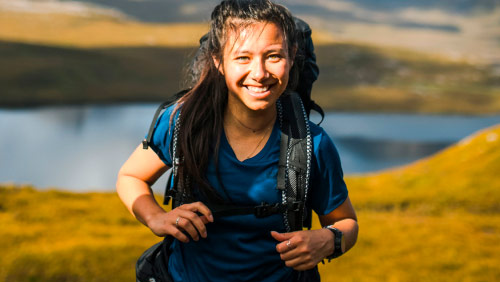 Sarah
My name is Sarah Afiqah Rodgers. I am a Scottish/Singaporean, outdoor, travel and adventure photographer! While my home turf is the Scottish Highlands, I have an overwhelming love and passion for our beautiful planet and want to show off everything she has to offer! From mountains to the oceans, you'll find me there with my camera, capturing nature at her finest!
@theworldwithsarah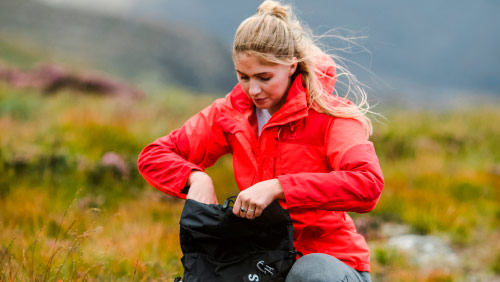 Rachel
My name is Rachel Bowler. I am a model, storyteller and content creator. I'm passionate about self-empowerment and acceptance, and getting outdoors to explore this beautiful world!
@rachelbowler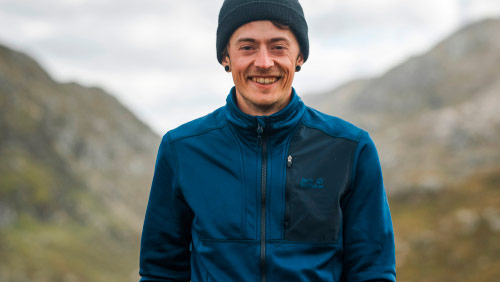 Jack
My name's Jack Anstey. I'm an outdoor and adventure photographer from the UK. I love exploring and discovering remote and wild landscapes, whilst travelling in my campervan.
@jack_anstey
Scottish Highlands
Living exhibit of Mother Nature's greatest magic
Whales, basking sharks, deers, otters: from land to sea, forest to river, there's so much wildlife to be seen in the Highlands!
Lonely Planet calls the Scottish Highlands one of the last corners of Europe where you can discover genuine solitude.
The region's biggest draw remains its magnificent landscape: majestic mountain ranges, floating mist-covered lochs and ancient forests.
On this special trail you can meet new travel buddies who love and respect nature and who are as adventurous as you are. You can also motivate your loved ones to come along. Because hiking is especially fun with a team!
On this special trail you can meet new travel buddies who love and respect nature and who are as adventurous as you are. You can also motivate your loved ones to come along. Because hiking is especially fun with a team!
The trail, day by day
Day 1
Welcome to the north-west of Scotland
After arriving in Inverness, you'll be in for a treat to discover one of the most spectacular places in the Scottish Highlands. During the transfer we will be passing by the first mountains on our route before we set off on our first hike. After a brief ascent we will experience impressive views of An Teallach, one of the most famous mountains in the whole of Scotland. We will pass through Scottish moors on old and solitary hiking trails and animal paths which give way to breathtaking views of the surrounding mountain ranges. We then head towards the Broom River and the loch of the same name, the final stretch continues along the banks of the river before we climb aboard the transfer coach that stops at Aultguish Inn. Here a simple but nourishing meal will be served and we will learn more about the region.
Distance: 13.5 km (approx. 8 miles), time: approx. 4 h
Day 2
Alladale, the wild side of the Highlands
Today will take us deep into the mountainous region of the Alladale Wilderness Reserve, a jewel in the wilderness. We will be walking along the Tal Vaich to get to the loch of the same name during the course of the early morning. The mountains now become even more impressive and challenging. We will hike along the valley until we get to one of the remotest places in Scotland, Deanich Lodge. We travel down a different valley in the afternoon until we reach our destination. A short transfer will take us to our lodgings for the night close to Invershin.
Distance: 26 km (approx. 16 miles), time: approx. 7 h
Day 3
The journey continues further north
We start the day by going back to the point where the journey will begin – Croick. Today's hike takes us through the old Caledonian mixed forest and along the Cuileannach valley, following the river of the same name until we reach Oykel Bridge. We follow an old trail for most of the time until we take the final pass for the day that leads us to the neighbouring Einig valley. After a short distance we arrive at Oykel Hotel in time for a well-earned drink to round off the day. A short transfer takes us to our hotel on the edge of a loch where there is time to take a refreshing dip in the water before dinner is served.
Distance: 14 km (approx. 8.5 miles), time: approx. 4.5 h
Day 4
Steinadler and the Bone Caves of Assynt
After breakfast, we prepare our daypacks for the day and head off directly from the hotel in a direction far away from any civilisation. We're immediately off the beaten track and are going uphill. There are breathtaking views to be had of the wild and solitary Assynt Giants. Below the summit of Braebag, the hike continues to the Bone Caves, where the remains of lynx, reindeer and polar bears were found that used to roam here in bygone times. The hike continues over the final pass before crossing through the Inchnadamph nature reserve and on to the place with the same name. The day draws to a close with a tasty meal featuring regional products and a 'wee dram' of local whisky.
Distance: 15 km (approx. 9 miles), time: approx. 6 h
Day 5
Scotland's biggest and most impressive waterfall
Today's hike takes us to the heart of Assynt. The rugged and arduous tracks climb up to the Na h-Uidhe pass. Maybe we'll see an eagle soaring majestically above us. We will take our well-earned lunch break directly above the Eas a'Chual Aluinn (The Wading Widow Falls), which has a sheer drop of 200 metres and is the highest waterfall in the whole of Great Britain. The descent in the afternoon follows the route down to Loch na Gainmhich, from which there is a spectacular drive to Ullapool, the largest place in the region with 1500 inhabitants. A final hearty evening meal and a visit to one of the local pubs gives us time to reflect on the memorable events of the past week.
Distance: 15 km, time: approx. 6 h
Included
· Guide
· Accommodation
· Full board
· Baggage transport
· Transfers
Not included
· Travel to and from Scotland
· Emergency travel medical insurance
· Trip cancellation and interruption insurance
· Personal climbing kit
The challenging trail demands a certain amount of fitness and mobility. If anything is unclear, please get in touch with ASI Reisen by phone on +43 512 546 000 or by email: verkauf@asi.at.